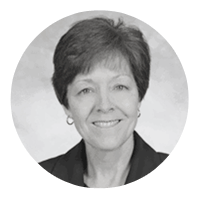 Margaret A. Gillespie
In Loving Memory
**In Loving Memory**
Margaret was a founding member and shareholder of the Firm. She practiced construction law, commercial litigation, and bankruptcy law. Margaret was highly respected not only for her legal talent, but also for her devotion to charitable causes, her alma mater Notre Dame, and her loving extended family.
Margaret passed away after a protracted battle with cancer. The firm misses Margaret and retains her name in honor of her years of service and contributions.
Education
University of Notre Dame, B.A., cum laude, 1977
Arizona State University, M.B.A., 1986
Arizona State University, J.D., cum laude, 1990
When you enlist the services of May Potenza Baran & Gillespie, you get an experienced, diverse team of advocates in your corner who work collaboratively, move quickly, and think differently.